Are You Ready For Your New Puppy?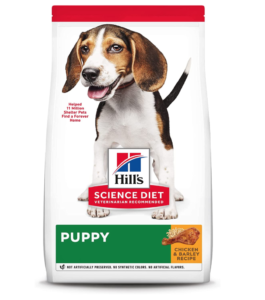 Start out with a positive attitude. The first weeks of your new puppy's life with you will be busy and demanding. There may be times when you wonder…What was I thinking? Things will go better if you have patience and keep your sense of humor. Remember that puppy hood only happens once. The extra effort you put into it now will pay off in the future. Remember we are here if you need us.
Get the supplies and equipment you'll need:
Wire &/or plastic dog crate. A 24" x 30" or 24" x 36" good size.  [Our Recommendation]
The current puppy food we are feeding: Click HERE for the link. Our puppies are eating 1/3 of a cup at each feeding (8 am, noon, and 5 pm) for a total of 1 cup per day!
Easily washable, hard-to-destroy bedding material, imitation sheepskin works well. Leave an area that your puppy can go to if they get too hot.
Ceramic or hard plastic, tip-proof food & water dishes. Large enough for their head but small enough they can't put their front paws in it while eating. Stainless steel can cause "tear stains".
Buckle puppy harness & lead. I like the soft harnesses. You might want to look at the "Puppia Harness" you can find them online. We only use the Puppia brand so don't know how others will run. We recommend you get a collar that fits 6-12" and then fit your puppy once you have them. Or you can buy an XS and S harness and take the one that doesn't fit back. If they are in XS when they are with us they grow out of them quickly. CoCo however wears a Puppia Small as a full grown adult.
ID Tag with your phone number to wear on the harness.
A collection of high quality & safe chew toys: Puppy Approved Toys, or bones and sturdy stuffed squeak toys. We don't recommend nylabones as our beloved Lucy choked and died on a piece of one. Be very careful with what you give your little one and beware that their teeth are very sharp! Monitor or check often to make sure your puppy has not bitten through something or has destroyed it and is able to get pieces he or she could choke on. Check for damage to the toys/chew things often.
Grooming supplies: brush, nail clippers, puppy shampoo (we use Oster oatmeal, LINKED HERE), we will supply tooth brush & toothpaste that we use here with our Frenchies. CLICK HERE FOR OUR FAVORITE FRENCHIE PRODUCTS
A quality brand of dry puppy food. We use Science Diet Puppy Food: Click HERE for the link. We will give you a sample of this with new puppy care kit. If your puppy is getting 4 weeks of one on one training we will supply a 5 pound bag of puppy food.
"Bitter Apple", a safe spray-on product to discourage chewing on inappropriate objects.
A wire, wooden or plastic "baby gate" for blocking doorways.
A good book on puppy care & training. Read through them before bringing your puppy home. We recommend the AKC French Bulldog Book ISBN# 13:978-1-59378-277-1 $14.95
---
Puppy-proof your home
Raising a puppy is a lot like raising small children — they get into everything! Some of what they get into can be hazardous to their health or to your possessions. You can make life safer for the puppy and your furniture by getting rid of hazards and temptations ahead of time. Puppies are happy in small protected spaces—cordoned off spaces keep them safe and in view. They do not need run of house (shut closet doors and other room doors they don't need to be in).
To a puppy, the world is brand new and fascinating! He's seeing it all for the very first time and absolutely everything must be thoroughly investigated. Puppies do most of their investigating with their mouths — "Look at this! What is it? Something to eat? Something to play with?" Murphy's Law says that a puppy will be most attracted to the things he should least have — electrical cords, the fringe on your expensive oriental rug, your brand new running shoes, etc.
Preventing destructive and dangerous chewing is easier than trying to correct the puppy every second. Look around your home. What objects could be put up out of the way of a curious puppy? Bitter Apple spray can be applied to furniture legs, woodwork and other immovable items. Are there rooms your puppy should be restricted from entering until he's better trained and more reliable? Install a baby gate or keep the doors to those rooms closed.
Take a walk around your yard looking for potential hazards. If your yard is fenced, check the boundaries and gates for openings that could be potential escape routes. Puppies can get through smaller places than an adult dog. If your yard's not fenced, make a resolution right now that your puppy will never be allowed to run off lead without close supervision. He won't ever know enough to look both ways before crossing the street to chase a squirrel. Keep him safe by keeping him on leash!
---
Use a Schedule for Training and Feeding
Work out a schedule for you and the puppy. Housetraining is much easier when the puppy's meals, exercise and playtimes are on a regular schedule throughout the day. Housebreaking is a whole subject in itself, one there isn't time for it to be covered in detail here. Your book on puppy care and training should have a section on housebreaking with suggestions and a recommended schedule. Read through it and create a game plan before the puppy arrives. Many people like to bring their puppy's home on a weekend in order to devote extra time to settling in and housebreaking those first few days. We recommend crate training but go with what works best for your home and family. Remember that a schedule helps ascertain behavior for potty training. My friend Kathryn's vet suggested that when you do take your puppy out to potty to pick a small spot to go to every time. Your puppy doesn't need to wander all over. That spot or area will be where your puppy has gone before etc. and will know that is what she/he is there to do.
---
Everybody Needs their Own Place
Decide where to put the dog crate, and have it set up and ready for his arrival. Where to keep the crate will depend on what's most convenient for you as well as the puppy's response. Many puppies don't like to be isolated in one part of the house while their family is in another but some puppies won't settle down in their crates if there's too much activity going on around them. You might have to experiment with different locations until you learn what works best for both you and your puppy.
---
Visit your Vet
Make an appointment with your veterinarian to give the puppy a complete checkup within 48 hours of getting your puppy. If you don't have a vet yet, ask other pet owners you know for referrals or local kennel club for a recommendation. Although your puppy has been health-checked by our vet, an exam is required for your Health Guarantee and additional security against health defects or problems that weren't apparent the first time. If your vet offers microchip ID implants and you didn't get it done with us this an excellent time to get one!
---
Other Things to Keep in Mind
The best way to get through is to learn and know your own dog—but this takes time and observation. What is also helpful is to have in/out time from pen in a cordoned-off area so that you can come and go and also observe your puppy. This also helps to you to know when to distract your puppy or give her/him an appropriate chew toy if she/he gets interested in an inappropriate thing. I let your puppy experience other rooms with you for a short time so you can observe your puppy and even bring some toys into the bathroom area when you wash-up. Bonding time with your new puppy is very important and they want to be with you.
If you read it let me know if you found it helpful. I would also appreciate it if when you get your puppy home if you find other things that have been very useful please let me know and I will add them. Our goal as a French Bulldog breeder is to give you more information than you need and to not leave you hopeless and guessing! Keep in mind that your vet is a wonderful source of information (or should be!) on lots of different subjects. Ask Questions!