References
"Family" is the best word to describe Bluegrass Frenchies …
"My name is Frank Skipworth and I am a veterinarian in Richmond, Kentucky. Kay asked me if I would be willing to write a reference letter for their website and I am not only happy to be a reference but am privileged to be working with Gary and Kay McCarty and their French Bulldogs. I can not express enough how professional and caring they are with their dogs.

"Each dog is treated as a family pet. All healthcare needs are attended to without regard for cost. They are frequently asking me how they can do things better to make sure every puppy that leaves their kennel is in the best condition possible for their new family. They are always very diligent in following my recommendations.

"During their first few years Kay's father, a veterinarian in Frankfort, had been going to their farm and giving their yearly Rabies shots. I began working with the McCarty's in 2008. I personally go over to their farm to do these for them now. I know that they have pictures of their kennel posted but I wanted to let interested families know that they have a very spacious and clean facility and it is given the same detailed care and attention as their French Bulldogs.

"Bluegrass Frenchies is truly a family operation. Often the entire family is here to help with newborn puppies. Having the attention given by Gary, Kay, Christina and Carrie to each puppy from day one is invaluable in the development of a great family pet.

"As I look over what I have written I realize that I have used the word "family" several times. I can not find a better word for what makes Bluegrass Frenchies different from other breeding operations. A family caring for puppies until they can be cared for in their new home. It is so rewarding to me and my staff to be a part of this."
Frank Skipworth, DVM |  www.skipdvm.com | 2013 MERCHANT DRIVE, SUITE 2, RICHMOND, KY 40475
---
What a breed! What a breeder!! What an incredible experience!!!
"If you are considering a Frenchie and researching a breeder, your search is over! Over the years, we have had several breeds from a St. Bernard to Miniature Dachshunds and loved them all. But our first Frenchie, Sweetie, stole our hearts. We planned to integrate Sweetie into our home (which includes a Black Lab, Boxer and Mini-Dachshund) and over time, as our family attritioned, add another Frenchie.

"Over-time never happened and we again added to our family just one year later! CAUTION, the website is updated every Monday featuring new pictures and videos of their gorgeous frenchies. Prolonged weekly visits to this site will result in additional unplanned purchases!! As our second frenchie we welcomed Cookie. We made this decision, after our first outstanding experience with Bluegrass Frenchies, we knew we would only trust Kay to deliver another beautiful pup. Our decision was a solid one, as Cookie is a true gem!

"Both Sweetie and Cookie are absolutely beautiful, which you can see for yourself. Our vet, who we have been seeing for over 20 years, pronounced both Sweetie and Cookie extremely well bred and in perfect health.

"Kay, thank you again for providing us with two beautiful, perfect pups and for making both purchases truly enjoyable, trustworthy experiences! We are proud to be a part of your Bluegrass family and freely extend our highest recommendation to you and your family!!"
---
It matters where your dog comes from …
"If you are reading this, you are probably considering joining the "Frenchie Club" and owning one of the most special dogs on the planet. Initially I got some very good advice, "It matters where your dog comes from". I looked online and found I could get Frenchies from all over the world, but who would want to risk transporting a puppy around the world? It was confusing, but a Frenchie owner gave me a list of places to start and it lead me to Bluegrass Frenchies. I saw their Frenchies and immediatley knew that this is exactly what I wanted. I loved Buddy, since he wasn't for sale, he would be the sire to my new baby.

"After many conversations with Kay, I could tell she was interviewing me to make sure I would be a good fit for a Frenchie in a subtle way, we settled on what I was looking for. I put down a deposit for pick of the litter, as I was just as particular as she – ha! Kay sent me pictures each week but we both knew who I was getting – Ziggy! The spitting image of Buddy, his doggy daddy.

"Sorry this is so long, but its worth it! Ziggy arrrived at LAX after traveling all day. He popped out of the crate with such enthusiasm, ready to play. I wish I had that exuberence after traveling all day. I followed Kay's advice and mailed her t-shirts that we had slept in to include in Ziggy's crate so he could identify and feel comfortable with our scents when we met. It worked like a charm and I recommend that.

"We took him to the vet the next day and he got a clean bill of health. Ziggy is a unique dog. He is exceptionally beautiful and has an amazing and magnetic personality. As a puppy, I noticed that people were abandoning their cars in the middle of traffic to come and have a look at him and say hello. A little dangerous, but Ziggy welcomed it. Ziggy is now coming up on his 6th birthday, it has not stopped, I have become accustomed to the fact that I inherited a super celeb and I am just lucky to enjoy him more than the rest of the world. He still stops people in their tracks. I even find people screaming at him in the car window – I love YOU!! (while walking their own dog). No, I have never seen these people before. The news media found him one day at the dog beach here, and he was on the news on fathers day. People's reactions to him are like how they reacted to the Beatles and Elvis. Even celebs come up to him and tell me he is the most beautiful dog they have ever seen and are mesmerized.

"Almost done… Ziggy also approaches each dog, person and situation differently, as if he is gauging his temperment to meet the sitch. I don't know if it is typically frenchie, but I find it fascinating and makes it great for me as I take him almost everywhere I go. Ziggy is obviously nearest and dearest to my heart and I am so grateful to have him in my life and so happy to have found the perfect breeder. Thank you for saying in touch all of these years."
---
It was love at first sight …
"Thank you for raising such a perfect boy! This year was Kevin & I's first Christmas as a married couple and what a great way to remember it. Our new addition to the family was such a wonderful surprise. Kevin & Bowden were waiting for me in our living room on Christmas morning. It was love at first sight! One of the reasons that I married Kevin was because he has such an amazing instinct on recognizing good people. He researched many breeders prior to choosing you and said that he just knew you guys were the best. He had a good feeling about you and said that the entire process was so great!

"Our lives are now completely revolved around him. He LOVES to cuddle and sleep on us so we just stare at him for hours at at a time! We are being the typical first time parents. I have only had him for two days but so far he is the best puppy. First off, I want to thank you and your family for potty training him! I am assuming that your family had some influence on this. The only thing he needs to learn is how to ask to go outside. Besides a little training he is the best! He does the crazy run around for about an hour then passes out. I could go on and on with stories and we have only had him for a few days! We want to thank you so much for raising a happy, healthy, smart, and good-looking frenchie. We can't wait for all of the great memories he will bring. Kevin and I promise to stay intouch with you and your family."
Monique, Kevin & Bowden Frost
---
We couldn't be happier than with our little Kentucky clown..
"When our seven year old daughter Sophie, asked for a puppy and a ruler for Christmas my husband suggested that she have a second choice as it was getting close to Christmas and we figured most puppies were likely already called for. Her response was, in that case she would leave it up to Santa to decide what he would want her to have for Christmas (God help us if her "big gift" was a 12 inch ruler).

"We never imagined that Santa Claus would have found the perfect puppy right before Christmas and by perfect, we mean perfect. George our "French Charming" was born on December 2nd and although he was not under the Christmas tree, he became a part of our family from Christmas morning when Sophie saw his photo for the first time.

"George came to Houston in January just before the Super Bowl. He slept the entire flight and, as I watched him sleep, I couldn't help but feel he was meant to be ours. All of our family and close friends were waiting at home for George to make his long awaited debut. Finally, as we arrived back home with all of us circled around the travel bag, out stumbles this precious little, brindle Frenchie. He got his footing, gazed up at all the unfamiliar faces, and proceeded to "christen" our living room carpet. Hence our new life with George began and what a life it has been!

"There is nothing like having a Frenchie in the family. George is the sweetest, most loving, funny little clown on the face of the planet. Anyone he meets is showered with French Kisses. He does have a few funny and strange quirks. The first is that the little guy cannot pass up a shower. Don't leave the shower door open or unattended while you wait for the water to get hot…otherwise you will have one wet Frenchie! He will try his best to force his way in with that hard head of his. And if he doesn't get in, he'll do his "shower dance" on the glass door hoping to convince the person inside he needs to brush the bugs off too. A full shampoo and then a brisk wrestling match with a towel and he's good to go. The other quirk of his is brooms, mops and vacuums. George never meets a stranger and I suspect if someone ever broke into our house, they would be licked to death. However, if a rogue band of mops and brooms broke into our house the whole building would know.

"We live in a midrise and everyone knows George. They might not know my name but everyone knows George and my daughter Sophie. He's just got that captivating personality. Everyone has to say hello to George and ask him how he's doing. George is always very cordial and always let's the folks ooooohh and ahhhh over him. Sophie and George have a very special bond…almost like partners in crime. One minute they are snuggling in the living room and the next Sophie is chasing him all over the house after he's stolen something (usually a stuffed animal or a marker) from her room.

"George NEVER misses morning carpool…he almost jumps out of his skin when its time to leave. Coach V. who works the last station at school always has a treat for George. Sophie may get out of the car much earlier but George will not let me drive off until he sees Coach V. to get his morning treat.

"We are so very happy with our little guy and I am very grateful to Kay, who was such a great help holding my hand through the first few months of my being a new Frenchie Mom. George has given us so much joy we couldn't imagine our house without him. There are Frenchies and then there are 'Frenchies from Kentucky' and we couldn't be happier than with our little Kentucky clown…"
---
Not only is she physically perfect, truly she's perfect, the vet's words not mine….
"Scarlett is amazing!!! Not only is she physically perfect, truly she's perfect, the vet's words not mine. Plus, she has the sweetest disposition. Scar is gentle, kind, sassy and smart all rolled up into a solid little red package! I still get stopped when I'm walking her by people. People have even stopped their cars to ask me about her! She's never had a bad day and from the time she wakes up in the morning until the time she lays her head down…on my pillow, in my bed, on my 800 thread count sheets! Scarlett sleeps with her little head on the pillow next to me and she literally spoons me, snoring away softly in my ear. If she's not trying to snuggle up on me she's busy sleeping on top of Lucy. Wherever Lucy is sleeping Scarlett wants to be right on top of her, its like she can't get close enough.

"Lucy is my Boston Terrier and Scarlett adores her. She loves other doggies and just wants to run and play with anyone or anything. Truly she is such a happy dog. She's all about the great outdoors, and she loves her big back yard. She can spend hours hunting and sniffing and discovering sticks, leaves, dirt and bugs. Yet, she's equally as happy in my lap snoring away.

"Scar has the ability to clear a room with her gassiness or brighten the room with her sassiness. I've never seen more attitude and sweetness inside such a little package. She is a delight to watch, hold, snuggle with and smooch on.

"The sweetest thing about Scar is her loyalty. She loves me so much and she wants to be with me and close to me all the time. Makes a moms' heart fill up. We call her the bowling ball, because she will literally knock Ned (who is an ex-NFL player' so he's not little) out of the way to get to me. That must be the bulldog in her. She will squeeze her solid 17 lb body into any space just to be next to me, her mom.

"Lucy is my first born and my best friend and I thought I couldn't possibly love another dog the way I love my Lucy, until Scarlett came along. Where Lucy is my best friend, Scarlett is my baby. She's truly an amazing dog and a true companion and I can't imagine my life without her perfect little bully face, her expressive girly eyes, complete with eye lashes and brows and the solid little body that loves to snuggle up next to me. Thank you for blessing me with Scarlett!"
---
She is such a healthy, happy little dog and so much company for an empty nest mother of five….
"Georgia Ann is almost 4 now and has been such a delight and great addition to our family. She is such a healthy, happy little dog and so much company for an empty nest mother of five. She is 18 lbs., strong and well built like her daddy, Styles. She is smart learning come, stay, sit, up and down and would learn more is I spent more time. She loves to go on her daily walks/runs on the golf course and trails near our home.

"Kay does a great job of socializing her pups. When Georgia sees children or a stroller she gets very excited and wants to go right over to them. We have been very busy traveling since our children are scattered all over the country and we have taken Georgia on a lot of trips. She loves car rides, is a great flyer, likes her carrier and is very good at the hotels. She is a wonderful little companion.

"Kay not only breeds well tempered and smart dogs but beautiful ones. I had our English bulldog at the Tufts Veterinary Hospital for an eye check-up and of course Georgia wanted to come along for the ride, so I took the opportunity to have her checked out too. The doctor complemented on Georgia's perfect physical attributes and that it was so good to see such a well breed dog.

"Georgia Ann has lots of energy for walks and play but also likes her naps and quiet time. She is never a pest and very rarely barks. She is just a perfect little pet and house dog. We love her and are so thankful that we found Kay and her Bluegrass Frenchies; they are top notch!!

"We happened to be in Atlanta a few months ago with our Georgia Ann and another French bulldog owner saw her and we got into a conversation. He also has two dogs Brutus and Rocco from Bluegrass and was also very complementary of Kay and her family and the quality of their two dogs. Kay is a responsible and caring breeder and produces very beautiful, smart and healthy dogs."
---
Louis is 18 lbs of amazing little Frenchie!
"Louis Bastian is doing extremely well! He is THE CUTEST Frenchie in the world, super playful and friendly. He is well behaved…most of the time! He is 18 lbs of amazing little Frenchie!

I bring him to my store with me everyday and he gets to play with other dogs and people all the time. Everyone who comes into our boutique knows that he is a Bluegrass Frenchie. We even met his sister Maisie! Apparently, her dad Jon Saunders works a block from the store! I have attached a picture of Louis Bastian,…we happened to do be having a photo shoot for our new fashion look book and did some test shots with Louis. He could be a model!

Also, wanted to thank you. Louis Bastian was so excited that you remembered his birthday. We are having a BIG party for him tomorrow here at the store. We invited all the dogs in the neighborhood and all the other puppies from BlueGrass here in NY. Thanks so much!! Louis sends his love!!"
---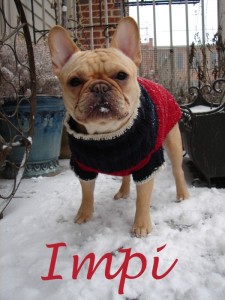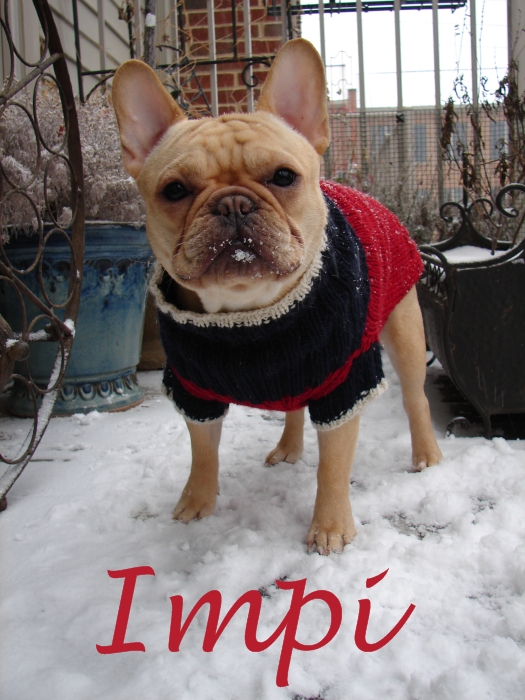 He is the healthiest, cleverest, happiest little chap …
"Gerard and I would like to thank you so much for our beautiful Impi. Being first time parents of a brand new baby I was sure that you would not understand our 'neuroses!! However, we were pleasantly and gratefully surprised when you gave us your undivided attention with great understanding and humor. Dealing with you and Bluegrass has been an absolute pleasure – even being "on call" for the emergency "spear rib" incident and other dramas that new parents experience – wow! He is the healthiest, cleverest, happiest little chap and is ruling our lives and the whole neighborhoods'. Thank you so much – we highly recommend Bluegrass Frenchies to anyone who is interested in a quality French Bulldog!"
Gerald and Penny Noordanus
---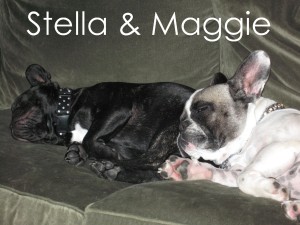 If she were human, she would love to chat with the girls and drink lots of wine!
We just LOVE Stella (and so does everyone else). She is doing great! She is soooooooooooooo spoiled.I take her with me everywhere. Her personality is like no other. She is extremely social. I just know if she were human, she would love to chat with the girls and drink lots of wine!

She is beautiful. EVERYONE LOVES HER but none more than I do! She does not like to be without Maggie (her sister) and when she is, she will cry like a baby. We have thought about getting another one but every time we start to think about it Stella gets into something and it makes us realize two is enough for now. I hope all is well. Thank you for checking in AND thank you for bringing Stella into our lives.
---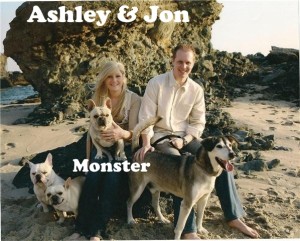 Monster was well worth his price …
"Monster turned 5 in May. I just wanted to write and thank you because he is such a wonderful, healthy dog… not to mention VERY handsome! I just had to tell you that I recently purchased a 2 year old frenchie from a "breeder" in Texas and I couldn't be more disappointed. They lied to me about her health and shipped her to the wrong airport without telling me just because it was cheaper. Basically it was a total nightmare.

"So, I just wanted to let you know that I really appreciate you guys and getting such a fabulous dog from you. We go to frenchie play days at our local dog park and everyone comments on how good looking Monster is (they even say that they wish their frenchie was as handsome :).  Monster was well worth his price and I will never make the mistake of going to anyone else for a frenchie again!"
---
I have to tell you how very blessed we feel to have such a healthy little girl …
"I can't tell you how in love we are with our Abby. Hugh and I had originally contacted you regarding the purchase of a puppy. But after looking at your "Adults For Sale" page, we saw Abby's sweet face and knew we'd be the perfect loving home for her. We couldn't be happier with our choice.

"I wondered, at first, since we were getting her as an adult whether she would take to us or be a bit afraid of a new home and environment. When we first got her she was naturally a bit apprehensive for about an hour… then she decided that we were OK and has followed me around ever since. We feel like she's been in our lives for 10 years, she IS family.

"Abby is a very smart girl! We were worried that she would be hard to potty train, since she had lived with the doggie door system, but she knew that outside was where business was done, so the important thing for us was to get her on a schedule. I'm not saying she was perfect and had no accidents… she did… but not many… and not for long. She was crated at night, and when we were gone, but she graduated from the crate very quickly. She wanted to sleep in her own bed on the floor right next to our bed. This has worked out great for everyone. Although, she usually ends up between us at some point during the night, but we don't mind. She's a snuggle bunny, and there is nothing better than waking up to those brown eyes looking at me.

"She turns heads on our walks, that's for sure. She loves walks and, as Fall is upon us, loves chasing leaves. She makes us laugh every day. Since purchasing her, I've joined a French bulldog fan website and have to tell you how very blessed we feel to have such a healthy little girl. It breaks my heart to read about the problems others are dealing with, after obviously having been convinced to buy what they thought was the right Frenchie.

"If we decide on a second frenchie, Hugh thinks Abby needs a brother, we will consider no other breeder. Your family is the best! Thank you for the care you show all of your moms, dads and puppies, and thank you for caring enough to check in with us to make sure Abby is happy and healthy.  Well, we wanted to share with you that Abby was one of the 55 finalists in Martha Stewart's "Lazy Pet Photos" contest, but did not win. Pretty good, though, considering there were like 2,000 entries when the contest ended."
---
YOU WON'T FIND A BETTER LOOKING DOG ANY WHERE ELSE!
"I would like to share my experience with Kay and Gary at Bluegrass Frenchies. I was surfing the internet looking for French Bulldogs and came upon the Bluegrass Frenchies website and I liked how they only has US Bred Frenchies and NO imports. I also liked that they posted pictures of the Females that were due to have litters and that you could see the studs and their pedigrees. I was so impressed with the quality of dogs they have and their background champions. When Kay says in her advertising YOU WON'T FIND A BETTER LOOKING DOG ANY WHERE ELSE this is so true. I spoke to Kay on the phone and by e-mail several times and finally made a $500 deposit.

"Kay sent me pictures of her puppies and I picked out our puppy. As the weeks went by Kay sent shot records and Vet visits and kept me informed on how she was doing. Molly was shipped in by Air and she did fine. My husband Ron really didn't want a puppy but after only four days in our house I came home and Ron was smiling and I asked him what was up and he said Molly and I watched the Dr. Phil show in his recliner and every since they have been inseparable. Molly will be 5 August 16. I got Molly for myself for a birthday present but she is very much my husband Ron's dog now.

"Molly is so layed back but playful enough that she wears us out. She likes to take walks and when we take her to get her regular Vet visit they go nuts over her because here in Des Moines, IA they don't see French Bulldogs. So, it's a treat for them to see her. We are so pleased with her personality and her looks. I would love to have another puppy in the future after I retire and I wouldn't go any where else but to Bluegrass Frenchies to get one."
Donna Williams
UPDATE: Donna & Ron added another Frenchie to their family. Congrats on your beautiful little pied female Daisey!
---