"Family" is the best word to describe Bluegrass Frenchies …
"My name is Frank Skipworth and I am a veterinarian in Richmond, Kentucky. Kay asked me if I would be willing to write a reference letter for their website and I am not only happy to be a reference but am privileged to be working with Gary and Kay McCarty and their French Bulldogs. I can not express enough how professional and caring they are with their dogs.

"Each dog is treated as a family pet. All healthcare needs are attended to without regard for cost. They are frequently asking me how they can do things better to make sure every puppy that leaves their kennel is in the best condition possible for their new family. They are always very diligent in following my recommendations.

"During their first few years Kay's father, a veterinarian in Frankfort, had been going to their farm and giving their yearly Rabies shots. I began working with the McCarty's in 2008. I personally go over to their farm to do these for them now. I know that they have pictures of their kennel posted but I wanted to let interested families know that they have a very spacious and clean facility and it is given the same detailed care and attention as their French Bulldogs.

"Bluegrass Frenchies is truly a family operation. Often the entire family is here to help with newborn puppies. Having the attention given by Gary, Kay, Christina and Carrie to each puppy from day one is invaluable in the development of a great family pet.

"As I look over what I have written I realize that I have used the word "family" several times. I can not find a better word for what makes Bluegrass Frenchies different from other breeding operations. A family caring for puppies until they can be cared for in their new home. It is so rewarding to me and my staff to be a part of this."
________________________________________________
Every investment we made in getting Lulu has come back to us and our family tenfold in deep unconditional love, happiness, and the security in knowing that she is a perfectly healthy girl – absolutely priceless.
"We'd been searching for a dog to bring into our family for months when several friends and friends-of-friends suggested we call Bluegrass Frenchies. It seemed a surprise that we knew more than one parent with a Bluegrass baby, but after just a few conversations with Christina McCarty Brunty, it was clear why our friends trusted the McCarty's with one of their most important family decisions – their beloved four-legged family members. From the beginning, Christina was warm, genuine, and we talked in depth about our experience raising dogs, our timing, our lifestyle, and the care we intended to provide for our future Bluegrass baby; it was evident from the get-go that the McCarty's truly care about their babies and the home to which they'd be adopted. "

"We fell in love with Louise ("Lulu" or "Lu") when Christina shared her first photo, at about a week old, and we stayed in touch closely over the next couple of months as Lulu grew stronger and started "school" (we chose to have Christina train Lulu before she came home). Christina shared so many photos, videos, and progress updates with us that we felt part of Lulu's first few months even from afar. We watched our little girl grow and learn essential skills: her name, work on her potty-training, how to be comfortable in a crate, and how to ride in a car. We watched her personality begin to shine through. Noteworthy, Lulu was always in Carrie or Christina's arms, she was always outside running through the grass, or she was lounging on the couch or elsewhere in the McCarty's house – she was being raised *at home,* surrounded by love. When Christina and her husband flew up to New York to hand-deliver Lulu to us, we had a big hug for little Lulu AND Christina, who after so many conversations and questions felt like a proper friend who'd been caring for our little love. Christina sent Lulu home into our arms with a 'going home gift' – her carrier bag with her toothbrush and toothpaste, some food and treats, wipes, a travel water bowl, and some toys: a stuffed monkey, and a tennis ball – thoughtful things to make Lulu's transition easier, again showing that genuine care about our pup's well-being. "

"Lulu is now 1 years old, and we feel very grateful for our
relationship with Christina and our Bluegrass Frenchies family throughout the past year! Christina is always there to answer a question or offer advice and she genuinely shares in our joy at our little girl's happy moments. And Lulu, *WOW.* We are regularly stopped on the street and people comment on how beautiful and sweet she is. She is perfectly AKC 'breed standard.' She has the kindest, most loving, and most playful personality. She loves every adult, every child, every dog, every squirrel, and every bird she meets. Our extended family and friends, her vets and vet techs, our building's concierge, our mailman, our local coffee-shop, the waiters at our favorite restaurants etc. all LOVE her, recognize her on the street, and often comment how good, loving, and sweet she is and how much she lights up their day – Lulu is a little ray of sunshine. She is always snuggling and kissing us and wants to be kissed and snuggled back – she was surely held close and kissed aplenty with the McCarty's because she prefers to be held at face-level for kisses still (and we are more than happy to oblige!). She is healthy – and any Frenchie parent knows how challenging that can be and how careful Lulu's breeding is to allow her to be so healthy. Lulu is communicative with her different Frenchie sounds, always curious, and SMART – her intelligence and focus stood out to us from the very beginning: she was potty-trained fully within weeks of coming home, she knows the differences between her toys and even which toy is "Bunny" and which is "Chuckit Ball," she learns new games and commands QUICKLY, so much so that we laugh that we have an impressionable toddler in our home – we have to be careful about what we show her and spell certain words out between us parents because she absorbs new information like a sponge. It's truly delightful, and she is beyond precious and special. "

"We are so grateful to be part of the Bluegrass Frenchies family, and to have such loving and knowledgeable people to turn to throughout Lulu's life. As was done for us when we were searching, we've passed the joy we have forward and have recommended Bluegrass Frenchies to several people already. We highly recommend Bluegrass Frenchies to anyone looking to bring a Frenchie into their family, will 100% get another Bluegrass baby in the future, and wouldn't consider going with another breeder. Every investment we made in getting Lulu has come back to us and our family tenfold in deep unconditional love, happiness, and the security in knowing that she is a perfectly healthy girl – absolutely priceless."

"Thank you, Bluegrass, for our happy, healthy, and silly little queen!"
Casey, Julia, and Louise ("Lu")
---
What a breed! What a breeder!! What an incredible experience!!!
"If you are considering a Frenchie and researching a breeder, your search is over! Over the years, we have had several breeds from a St. Bernard to Miniature Dachshunds and loved them all. But our first Frenchie, Sweetie, stole our hearts. We planned to integrate Sweetie into our home (which includes a Black Lab, Boxer and Mini-Dachshund) and over time, as our family attritioned, add another Frenchie.

"Over-time never happened and we again added to our family just one year later! CAUTION, the website is updated every Monday featuring new pictures and videos of their gorgeous frenchies. Prolonged weekly visits to this site will result in additional unplanned purchases!! As our second frenchie we welcomed Cookie. We made this decision, after our first outstanding experience with Bluegrass Frenchies, we knew we would only trust Kay to deliver another beautiful pup. Our decision was a solid one, as Cookie is a true gem!

"Both Sweetie and Cookie are absolutely beautiful, which you can see for yourself. Our vet, who we have been seeing for over 20 years, pronounced both Sweetie and Cookie extremely well bred and in perfect health.

"Kay, thank you again for providing us with two beautiful, perfect pups and for making both purchases truly enjoyable, trustworthy experiences! We are proud to be a part of your Bluegrass family and freely extend our highest recommendation to you and your family!!"
Kimmel & Priscilla | doghaus@woh.rr.com
UPDATE: Kimmel  Priscilla added 2 more little Frenchie to their family. Congrats on your beautiful little babies, Lucky and Lucy!
---
Fall in Love…
"I realized the type of Breeder I was dealing with the day I went to visit with Lilly Bean for the
first time.  I paid for extra training for Lilly Bean and it was well worth the time and money.  I highly recommend it."

"I knew Bluegrass Frenchies was hands on, I knew they were a quality breeder with proven, established breeding practices because I had done my homework BUT until that day I didn't realize what the references to "family" meant."

"During the visit, Kay decided that it was ok to take Lilly Bean home a few days early.  I was ecstatic.  Kay followed us to the car and in that moment I glanced back at Kay and the emotion that crossed her face was one of a Mother letting her child go for the first time. I saw in that glance what these babies mean to them. They didn't know anyone was looking but I saw! That's when I knew that this wasn't about breeding; this was about raising a family that included these wonderful French Bulldogs."  

"I highly recommend that you fall in love with your first frenchie at Bluegrass Frenchies.  You'll find yourself wanting to expand your family…..count on it!"
Anne Owens & Lilly Olive Bean
___________________________________________________________________________________________________
A Beautiful New Beginning with our Retired Adult… 

"I had been following BlueGrass Frenchie's Facebook page for sometime as I fell in love
with the French Bulldog breed. I immediately fell in love with their beautiful puppies! However, it wasn't the right time in my family's life to add a new addition as we already had a pet bird Harry. I wasn't sure how Harry and a dog would get along. Unfortunately, in November 2017 Harry passed away. I was devastated and my heart was broken."

"Once the holiday's came and gone and it was a new year, I realized that I was ready to open my heart again and wanted a dog, not just any dog. I wanted a BlueGrass Frenchies puppy and it had to be a Boy.  I never owned a dog but my husband had owned 2 previously. So I started watching BlueGrass Frenchie's FB page on a twice-daily basis."

"I spoke to my husband about wanting to add a boy French Bulldog puppy. He was very happy that I wanted to bring a dog into our home.  He expressed that he thought it would be a good idea for me being a first time dog Mommy, that we should adopt a retired Mom rather than getting a puppy."

"One day while looking at BlueGrass's Facebook page, I came across Emma!!! She was a Mommy who is ready to retire. I was in love immediately and had to have her. I sent my husband several text messages, letting him know we were heading to Kentucky that weekend to adopt Emma. I contacted Kay and she immediately called me back and advised me on the adoption process. We set up a time on Saturday to meet Emma."

"After we officially adopted Emma, we continued to have a wonderful relationship with the BlueGrass Family. They have been very supportive with the transition and any questions we have had with regards to Emma. We appreciated that Emma was crate trained and a well-behaved, loving dog. She was very well taken care of and we are very blessed that she's enjoying her retirement with us. She's been such a wonderful addition to our family and we just adore her. We also enjoy sharing Emma updates with BlueGrass Frenchies via Social Media and we keep in touch with them throughout the year."

"BlueGrass Frenchies has become apart of our family and we are blessed to have them in our lives. We highly recommend them to anyone wanting a Frenchie puppy or  a retired adult. We appreciate their personal touch and feel they are not just a business, but a family. When we are ready to add to our family again, we will only adopt from BlueGrass Frenchies."
Shelly, Steve & Emma Perks
UPDATE: The Perks family added another 2 more retired mommies to their family, Miss Stella and Lady Simone.
---
Crush and our Bluegrass Family is a dream come true…
"We researched breeders for over a year and the second we came across Bluegrass Frenchies, we knew our search was over. Not only did they have the most gorgeous frenchies I had ever seen, they were amazing from the second we reached out to them! They were so sweet to me with my million and one questions and were so easy to communicate with. We have worked with breeders for years and it was never even close to the loving, caring, exciting and trusting experience we had with the McCartys! I had no idea in the beginning how lucky we really were to be a part of the Bluegrass Family and to add a Bluegrass baby to our family!"

"From the very start (from the delivery!) we got photos, videos and updates of Crush and his littermates. I trusted Kay and Christina to help us pick out the perfect baby and Crush became ours and our world changed forever!! We got to watch Crush get so loved on and so well taken care of by Kay, Christina and Carrie. He was always with one of them and I really think that is why he is such a cuddle bug now! "

"We chose to have Carrie train Crush for us before we brought him home. I am not kidding when I tell you, Crush was potty trained when we got him at 12 weeks!! We couldn't believe it! He also knew his name and he could even sit! He was an angel from the second we met him! Carrie is magic! They are raised with so much love and care and it truly shows."

"We flew to Kentucky to meet The McCarty's and to pick up Crush. We were welcomed so warmly and immediately felt like family. Everyone came to meet us and say goodbye to Crush, it was so sweet. I could tell it was hard for them to say 'goodbye' to him and it touched us so much to know he was so loved. They answered all of our questions and put my mind at ease about flying home to Colorado with Crush! They gave us everything we needed and I didn't have to worry about a thing. We were so thankful for all the love and support, I was so nervous!"

"Crush is so perfect in every way, I know I'm biased, but in the process of looking for a good vet, we have met multiple veterinarians and have been told that he is the most physically perfect French Bulldog they have ever seen. We have gotten so many comments from vets, vet techs and trainers on his calm, sweet and patient temperament and his silly, happy, loving personality. He is so good with everyone he meets. We get stopped often and people always comment how cute and sweet he is. He is the ultimate snuggle bug and by my side at all times. He has been so good, calm and loyal since the day we got him. Over the past year, he has flown with us so many places and makes friends wherever he goes. We couldn't be more thankful to the McCarty's for such a physically perfect frenchie with a dream temperament and personality! That is truly priceless."

"We had the chance to fly back to Kentucky for a visit this last fall and of course had to see our Bluegrass Family! Crush got meet his beautiful littermate and also got to spend time with Christina's baby who is Crush's half sister. Christina and Carrie offered to watch Crush while we went to a football game and we were so touched that they did that. Bluegrass Frenchies is truly a family! We will make sure to come visit every year!"

"I have reached out many times over the last year with questions and I always hear right back. It is so good to know I always have such amazing, loving and knowledgeable people I can count on throughout Crush's life. We will absolutely be getting another Bluegrass Frenchie in the future and would never even consider working with another breeder. The distance we traveled and the investment we made to get our baby was well beyond worth it."

"It means so much to us that we get to stay in touch with the McCarty's and we truly feel they are family. They have a deep love for French Bulldogs and each one of their Bluegrass babies and families. We are so blessed to be a part of their family and will be forever thankful to them for our Crush. He is more than I could of ever asked for and has brought more love and joy to us than I though possible. We could not more highly recommend them to anyone looking to add a French Bulldog to their family."
Dave, Lindsay & Crush Jarrett
---
FORTUNATE – That is how we feel when we stumbled across Bluegrass Frenchie's website 10 years ago…

"FORTUNATE – That is how we feel when we stumbled across Bluegrass Frenchie's website 10 years ago!!  They are first class breeders who breed and care for top notch healthy French Bulldogs.   We are always telling friends and strangers who walk up to us giving us compliments on our dogs where we got them from. How lucky for us to have found Bluegrass when we started our search for a French Bulldog 10 years ago. We are now on our fourth Frenchie from Bluegrass and like they say, you can't stop at eating one potato chip and that's how we feel about our Frenchie's.  Buster (our first) is now 10 years old."

"They truly care about the health of their dogs and make every effort to stay in contact with you.  They are always available to answer questions, they love when customers send pictures of the different stages of their life.   We repeatedly say we will only use Bluegrass Frenchies out of Kentucky (although, we live in California) because we wouldn't trust any other breeder. "

"From the time we contacted Kay expressing our interest in Buster (our first
puppy), throughout our many questions during the process, we could not have asked for a better breeder who truly cared about our questions and took the time to get to know us as a family.  They are always responsive, kept in touch with us, insisted that we keep them up-to-date on how things were going, and wanting  pictures as often as possible.  We were fortunate enough to adopt our second Frenchie, Lady, who they retired, (Buster's mom), one year after getting Buster.  We had Lady for 8 years before she passed.   Several months after Lady's passing, we decided to get another puppy and fell in love with Nash.  Eight
months after getting Nash, Bluegrass retired Nugget (Nash's mom) so we couldn't pass that up.  So, we now have 3 Frenchies, Buster (10), Nugget (3) and Nash (1.5).  How lucky are we!"

"All in all – we believe we found the perfect breeder, no gimmicks, real pictures, and people who truly care about who is adopting their puppies and who really wants to stay in touch with their families so they know how their puppies are doing.  The best part is that they are great looking dogs, healthy and so much
fun to have."
"Thank you Bluegrass for allowing us to be part of your family and giving us the gift of allowing us to adopt your dogs."
The Kim Family | Buster, Nugget, & Nash
---
Chance's Story….
"It was love at first sight when Chance, a 4 month old Frenchie, sprinted throughthe hotel lobby on our meet and greet.After signing some papers and giving a few hugs, Chance was ours to take home.Chance is a name that raises friends' eyebrows for a second until they think, that's a great name for the little guy.In fact, we took a Chance and we have entered the wonderful world of French Bulldogs."

"A beautiful fawn male, with perfect "bat" ears, and eyes the color of dark chocolate, we showed him off on long walks, in summer, with the stroller for comfort from the heat; in winter, his bright jacket to keep him warm. In our city in Michigan, a puppy in a stroller is an opportunity to find out who we are and what we're doing with a dog in a baby carriage.Frenchies are not so common where we live, so he attracted a great deal of attention.Most walkers stopped us to ask about him, cars would stop on the street and the drivers would say, "what a cute Frenchie.' "

"This little guy won the affection and praise of the vets, technicians and day care providers who, in all honesty, said that he was amazing and got along so well with other dogs.The stories of time spent with a caretaker when we were on vacation, and his play dates with dogs twice his size, would always finish with "he is quite a character and a really cute dog.'"

"Chance will be two years old in January, 2020.He has taught us so much about patience because he is an independent and proud dog, but he is willing to respond to gentle training and reinforcement with praise and treats. :)I can't express to Bluegrass Frenchies how grateful we are for their careful breeding, "
"Would we repeat this adventure with a future fantastic Frenchie…in a heartbeat."
---
Loving, Social, and 12 year old Lucy…
"We purchased our French Bulldog, Lucy, from Bluegrass Frenchies in December 2006. She's a beautiful, brindle female who's now 12 years old. She's definitely a close, loving member of our family. Kay at Bluegrass Frenchies was awesome from the beginning, and this has continued."

"Lucy gets a yearly birthday card and treat from Bluegrass Frenchies. We also get yearly requests for pictures of Lucy for calendars, etc. We had Lucy checked by our personal veterinarian as soon as we brought her home. He confirmed that her health was great, and that she had received proper early care without fault. She was good to go, to become the beloved member of our family that she is. Bluegrass Frenchies added touches of early socialization and loving care that were wonderful. We have, and will continue to, recommend Bluegrass Frenchies for their French Bulldogs. We plan to purchase our next Frenchie from them without question, although we do hope to have Lucy a while longer."

"We are happy to provide this recommendation and may be contacted for further information"

David, Kathy, & Lucy Vaughn
______________________________________________________________
My favorite thing about them is that they make you feel like family…
"Bluegrass Frenchies has forever changed our lives. Ben and I were moving to a new state (during a pandemic) into our first home when we started to think about finding a frenchie puppy. We wanted to do lots of research to make sure we used someone who truly loved on their dogs and knew the Frenchie breed. Let me tell you, Christina and her family are nothing but that. Christina was amazing at quickly answering any calls or text, she was very knowledgeable about any questions I had about George from the start, and walked us through this new chapter of being puppy parents.A year later, Christina is STILL quick to respond to any questions I have and genuinely wants to help anyway she can."

"When we got our cream Frenchie, George, he immediately stole our hearts. George was well taken care of when we were able to get him at 10 weeks. Our vet raved over how great his health was when we took him to his first check-up. Christina and the BGF family worked with George for 4 weeks before we took him home. They sent videos and pictures of our little guy each week. When we got George, he already knew his name and was off to a great start in house training/crate training.He has the sweetest temperament and loves other dogs and people so much. George really does not ever meet a stranger. We constantly get compliments on how handsome, sweet, and healthy he is."

"I could go on and on about Bluegrass Frenchies and how wonderful and truly caring they are, but my favorite thing about them is that they make you feel like family. We already can't wait to add another to our little family!"

Cate, Ben and George Holley
---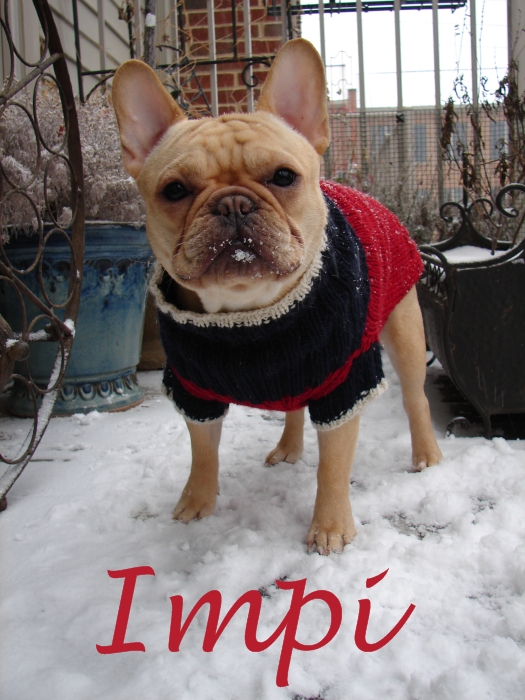 He is the healthiest, cleverest, happiest little chap …
"Gerard and I would like to thank you so much for our beautiful Impi. Being first time parents of a brand new baby I was sure that you would not understand our 'neuroses!! However, we were pleasantly and gratefully surprised when you gave us your undivided attention with great understanding and humor. Dealing with you and Bluegrass has been an absolute pleasure – even being "on call" for the emergency "spear rib" incident and other dramas that new parents experience – wow! He is the healthiest, cleverest, happiest little chap and is ruling our lives and the whole neighborhoods'. Thank you so much – we highly recommend Bluegrass Frenchies to anyone who is interested in a quality French Bulldog!"
Gerald and Penny Noordanus
---
If she were human, she would love to chat with the girls and drink lots of wine!
We just LOVE Stella (and so does everyoyesne else). She is doing great! She is soooooooooooooo spoiled.I take her with me everywhere. Her personality is like no other. She is extremely social. I just know if she were human, she would love to chat with the girls and drink lots of wine!

She is beautiful. EVERYONE LOVES HER but none more than I do! She does not like to be without Maggie (her sister) and when she is, she will cry like a baby. We have thought about getting another one but every time we start to think about it Stella gets into something and it makes us realize two is enough for now. I hope all is well. Thank you for checking in AND thank you for bringing Stella into our lives.
---
Monster was well worth his price …
"Monster turned 5 in May. I just wanted to write and thank you because he is such a wonderful, healthy dog… not to mention VERY handsome! I just had to tell you that I recently purchased a 2 year old frenchie from a "breeder" in Texas and I couldn't be more disappointed. They lied to me about her health and shipped her to the wrong airport without telling me just because it was cheaper. Basically it was a total nightmare.

"So, I just wanted to let you know that I really appreciate you guys and getting such a fabulous dog from you. We go to frenchie play days at our local dog park and everyone comments on how good looking Monster is (they even say that they wish their frenchie was as handsome :).  Monster was well worth his price and I will never make the mistake of going to anyone else for a frenchie again!"
---
I have to tell you how very blessed we feel to have such a healthy little girl …
"I can't tell you how in love we are with our Abby. Hugh and I had originally contacted you regarding the purchase of a puppy. But after looking at your "Adults For Sale" page, we saw Abby's sweet face and knew we'd be the perfect loving home for her. We couldn't be happier with our choice.

"I wondered, at first, since we were getting her as an adult whether she would take to us or be a bit afraid of a new home and environment. When we first got her she was naturally a bit apprehensive for about an hour… then she decided that we were OK and has followed me around ever since. We feel like she's been in our lives for 10 years, she IS family.

"Abby is a very smart girl! We were worried that she would be hard to potty train, since she had lived with the doggie door system, but she knew that outside was where business was done, so the important thing for us was to get her on a schedule. I'm not saying she was perfect and had no accidents… she did… but not many… and not for long. She was crated at night, and when we were gone, but she graduated from the crate very quickly. She wanted to sleep in her own bed on the floor right next to our bed. This has worked out great for everyone. Although, she usually ends up between us at some point during the night, but we don't mind. She's a snuggle bunny, and there is nothing better than waking up to those brown eyes looking at me.

"She turns heads on our walks, that's for sure. She loves walks and, as Fall is upon us, loves chasing leaves. She makes us laugh every day. Since purchasing her, I've joined a French bulldog fan website and have to tell you how very blessed we feel to have such a healthy little girl. It breaks my heart to read about the problems others are dealing with, after obviously having been convinced to buy what they thought was the right Frenchie.

"If we decide on a second frenchie, Hugh thinks Abby needs a brother, we will consider no other breeder. Your family is the best! Thank you for the care you show all of your moms, dads and puppies, and thank you for caring enough to check in with us to make sure Abby is happy and healthy.  Well, we wanted to share with you that Abby was one of the 55 finalists in Martha Stewart's "Lazy Pet Photos" contest, but did not win. Pretty good, though, considering there were like 2,000 entries when the contest ended."
---
YOU WON'T FIND A BETTER LOOKING DOG ANY WHERE ELSE!
"I would like to share my experience with Kay and Gary at Bluegrass Frenchies. I was surfing the internet looking for French Bulldogs and came upon the Bluegrass Frenchies website and I liked how they only has US Bred Frenchies and NO imports. I also liked that they posted pictures of the Females that were due to have litters and that you could see the studs and their pedigrees. I was so impressed with the quality of dogs they have and their background champions. When Kay says in her advertising YOU WON'T FIND A BETTER LOOKING DOG ANY WHERE ELSE this is so true. I spoke to Kay on the phone and by e-mail several times and finally made a $500 deposit.

"Kay sent me pictures of her puppies and I picked out our puppy. As the weeks went by Kay sent shot records and Vet visits and kept me informed on how she was doing. Molly was shipped in by Air and she did fine. My husband Ron really didn't want a puppy but after only four days in our house I came home and Ron was smiling and I asked him what was up and he said Molly and I watched the Dr. Phil show in his recliner and every since they have been inseparable. Molly will be 5 August 16. I got Molly for myself for a birthday present but she is very much my husband Ron's dog now.

"Molly is so layed back but playful enough that she wears us out. She likes to take walks and when we take her to get her regular Vet visit they go nuts over her because here in Des Moines, IA they don't see French Bulldogs. So, it's a treat for them to see her. We are so pleased with her personality and her looks. I would love to have another puppy in the future after I retire and I wouldn't go any where else but to Bluegrass Frenchies to get one."
Donna Williams
UPDATE: Donna & Ron added another Frenchie to their family. Congrats on your beautiful little pied female Daisey!
---