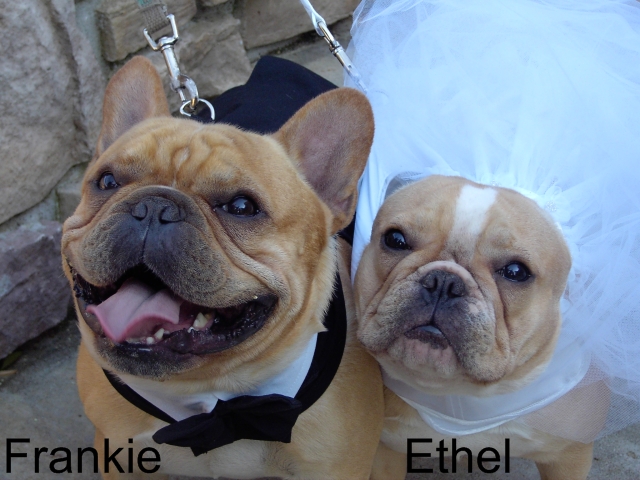 It's wedding season! Are you a bride or groom getting ready for your special day? Most likely your closest friends and family will all be there to support and celebrate with you on this happy occasion. If you have a furry little member of the family, why not include them in the festivities as well? In this post we'll discuss several different ways to include man's (and woman's) best friend and how to do so successfully.
NO DOGS ALLOWED?
First, be sure to check with your wedding vendor to ensure that your dog is permitted on the premises. If they are not, you can still include your precious pooch in your engagement and wedding photos, use pictures of them to decorate, or choose doggy themed party favors to pay them tribute. If they are permitted at your ceremony and/or your reception site, you'll want to consider the following.
GUEST APPEARANCE OR STARRING ROLE
 Think about your pet's personality and decide how much of a role you want them to play on your big day. Do you want them there as an honored guest with a special seat reserved with the rest of the family or will they have a starring role…perhaps a ring bearer or walking with the flower girl down the aisle?  Before giving your pet a starring role, think about whether this will be an enjoyable experience for him. Will your pet feel comfortable around your guests? Is he obedient and well behaved? A jumping dog will not be appreciated. If your dog has a tendency to jump up, take time well before the day to teach him an alternative behavior, such as greeting a person by sitting and giving his paw rather than jumping up. If his excitement level is too high, he might find it hard to control his impulses — in which case, keep him leashed and controlled at all times. There's no guarantee that your pet will behave exactly how you want him to on the day of the wedding. Even the most outgoing and friendly pet can be overwhelmed by a crowd of guests, so plan accordingly.  No matter what role you choose be sure to put a trusted loved one in charge of Fido for the day, someone they are comfortable with, so that you can relax and enjoy your day.
SHOW COURTESY TO OTHERS
Be sure to notify members of your wedding party and close friends and family that will be in close proximity with your pet in photos or down the aisle. This way, any who are prone to allergies can take the proper precautions before the big day.
PHOTOSHOOT
Whether your canine companion is there as a guest or part of the wedding party itself be sure Invite them to your photo shoot. After all it wouldn't be a family photo without the ENTIRE family! Be sure to have treats handy to reward them for their patience and cooperation.
FORMAL ATTIRE
Especially if they are going to be in your wedding photos, consider dressing them up for the occasion. A little bowtie or a collar adorned with blooms to match your bouquet. Find out how to make your own blooming collar here!
PRACTICE MAKES PERFECT
Want your pup to have a starring role? Perhaps even as your ring bearer? Start practicing now! Take him for walks in places where there are a lot of people to get him used to large crowds. If you are at all uncertain about what your dog will do in the moment, consider having someone in your wedding party walk down the aisle with them on a short leash.  Be sure to secure your rings well to their collar, perhaps placing them in a small jewelry bag and clipping it to the back of their collar. Before the ceremony make sure they are vigorously exercised to ensure they are free of any pent up energy.
DESIGNATED DRIVER
If you choose to have them attend the ceremony only arrange for someone, preferably who is not a guest, to take them home. If you do decide to let them join the party make sure you have a seat for them at or beside your table or with someone they trust.
LET THEM EAT CAKE
Have a personalized little dessert that's safe and delicious for your furry friend. Order one from a local doggie bakery or make one yourself using the dog-friendly recipes here.
CAKE TOPPER
Another way you can include them is on your very own cake. Have a custom personalized cake topper made featuring not only the bride and groom but you little pup too!
PRIMPED AND PAMPERED
Most likely the entire wedding party will receive a little extra pampering before and on the big day, salon visits for hair, mani-pedi's, and makeup so be sure to give your best bud some special attention as well. Schedule a visit to the groomers the day before and have them smelling and looking their very best!
Having your loyal companion by your side on the big day may take a little extra preparation but, in our opinion, well worth it! Have you ever been to a wedding where a pet was present? Would you consider having your furry friend attend yours? We'd love to hear your thoughts in the comments below!