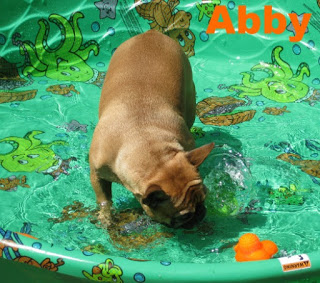 A little pup in a tub! Bathing Fido doesn't have to be just a mere chore. With a little imagination bath time is simply more time for play time! Using these simple tips and tricks you can make even the most reluctant bath participant go from dreading baths to wagging their tail when you mention the word!
HEY RUBBER DUCKY YOU'RE SO MUCH FUN!
Bath toys aren't just for kids. Toys are essential to make the tub a safe and fun place, one that your pup looks forward to going! Play with them in the bathroom while you wait for the water to warm up as well as when they are in the tub to encourage and teach them that the bath is not a scary place but rather a fun, happy place where they get lots of love and attention from you.
BATH TIME IS TREAT TIME
Reward them with their favorite treats before, during and after bath time. Kill two birds with one stone and take care of their oral hygiene as well, by using treats specifically made to freshen breath and clean those teeth! Your vet will have a lot of great suggestions for the best dental treats for your dog.
POSITIVE REINFORCEMENT
Coax them to the bathroom gently and using a positive, upbeat tone, using toys and treats to get them there if necessary. Never punish your dog for resisting bath time. Be sure that he always associates it with fun and love instead of scoldings and punishments. Being gentle, calm and understanding will do a lot to ease any nerves little fido may have.
SUMMER BATH TIME FUN
Summer can be a really fun time to introduce a few new bath time ritual, making this task it even more enjoyable for you both! Try a nice outdoor bath in a galvanized tub or plastic kiddie pool. Listening to the birds and enjoying the beautiful garden scenery will make bath time that much more relaxing and peaceful. If your dog enjoys playing with water, turn bath time into a game with a garden hose or a sprinkler, letting them have a little pool party style fun before getting down to business.
Using these fun tips will help you get even the most reluctant bathing participant to warm up to the idea in no time! Do you and your pup have any other fun bath time routines? We'd love to hear what makes bath time fun for you, please share your stories with us in the comments below!