It's that time of year already and Holiday season is upon us! With Halloween just a few days we thought we'd share a few fun ways to include Fido in this years celebrations. Whether your pup is the life of the party or a more reserved home-loving type, we've got activities for every personality.
Pet-friendly Halloween Costumes
Dress them up! Because what's cuter than seeing a little furry face in a clever costume? To ensure your pet's costume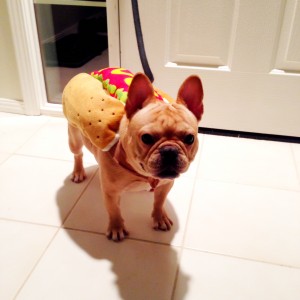 is both comfortable and safe, keep in mind these guidelines when shopping for, or making, their costume. Pay attention to fit, making sure nothing is too snug or too tight. Avoid costumes with any small, edible pieces. Try it on ahead of time to ensure that your animal seems comfortable and can move freely. After you've made sure that your pet is going to be comfortable and safe you are all set! Take him along with the family for trick-or-treating, your kids may even score some extra goodies thanks to their furry side-kick. Another great way to put your pets costume to good use is by hosting a dog-only costume party. Invite all of their puppy pals from the dog park or neighborhood over to show off their costumes. Have little paper lunch bags filled with puppy treats and decorated with Halloween stickers to hand out as party favors. If your pup isn't the social butterfly, have a laid back photo session at home with lots of treats involved! Post your favorite photo online to share their Halloween look without even having to leave the house.
Pumpkin Patch Pups
Take advantage of this gorgeous Fall weather and find a pet-friendly pumpkin patch to visit. Be sure to call the farm to ensure that pets are allowed before you go as not all farms are dog-friendly. The fresh country air and new sights and sounds are sure to make it a day you both enjoy! After you've picked your pumpkin why not carve one this year to honor your dog. There are lots of pet carving patterns available online for all levels of expertise, whether it's your first time carving a pumpkin or whether you are an advanced professional.
Tricks For Treats
Trick or treat? Who says you can't have both? Make this holiday a great reason to have your pet brush up on their favorite tricks or learn a new Halloween appropriate one (aka playing dead) Have plenty of special Halloween treats available. Many brands offer pumpkin flavored treats this time of year or make your own from your favorite dog-friendly recipes.
Watch a Scary Movie
Have a scary movie night with your pet! Make it fun for both of you with plenty of movie snacks and a great comfy place to snuggle up. It's a win-win for you both, your pup will love the extra cuddles and who better to protect you then your very best furry friend?
We hope you've enjoyed these ideas on how to celebrate the upcoming holiday with your frenchie. Whether you decide to play dress up and go out or stay in and enjoy a movie we wish you and your pup a very Happy Halloween from your friends at Bluegrass Frenchies. Enjoy!