We Love our French Bulldogs!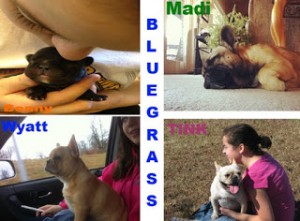 Often interested families will ask us how much time we spend with our French bulldogs. I think that our website shows that we spend all of our time that we aren't at work with them. When we are working and the kids are in school then we have a full time nanny to tend to our babies. Nanny has been with our family for 17 years. We trusted her to take care of our girls when they we little and we will find her rocking our puppies the same way we would find her rocking our kids.
Our Frenchies love to travel, they spend time running, playing and enjoying the outdoors as well as chilling indoors. We do have a kennel but as you can see our Frenchies spend lots of time inside. They are a part of our family and very socialized. If you have questions just check with our vet. He is just one of our many references. If you read over what Dr. Skipworth has to say about our family you will see that he uses the work family over and over. Once you adopt one of our BlueGrass French bulldogs we will want you to stay a part of our family, share updates and pictures.  Our main goal isn't to sell you a Frenchie it is to build lifelong relationships and be here for you for support if you have questions. We hope that you enjoy our website and look forward to speaking with you any time!